"We gain strength, courage and confidence by each experience
in which we really stop to look fear in the face...
we must do that which we think we cannot."
Doing the things we think we cannot is the essence of courage.
However, when we think about courage,
it's usually stories of heroism that come to mind,
saving someone from a fire or climbing Mount Everest.
But for millions of people around the world, courage comes in a very different way. It's a quiet voice that gives them the strength to go on for another day, sometimes in the face of seemingly insurmountable odds.
"Lose the Lyme: Save the Rhyme"
I can't hustle…
when some strange disease has attacked my joint and muscle.
I can't think straight,
when I'm carrying all this added weight.
I can't go on believing-
in a system that isn't seeing.
I can't dream for too long,
when I feel something inside me is so wrong.
I can't solve a riddle,
with confusion and crying - dying in the middle.
I can't do the things that I once could do…
If it hasn't happened yet, it could happen to you.
I can't stand the pain at times…
Am I really a victim of biological warfare - terrible crimes?
This is a very critical rhyme,
from a simple soul suffering with Lyme's in her prime.
Wouldn't you know, sprinkles are now coming down on my face:
I can barely feel the rain, yet I embrace -
God's Grace is taking place.
I can almost see in the cloudy skies - a moving staircase.
Close to the ocean, I feel the big wind and my heart race.
Healing begins with a Wounded Healer, at a slow moving pace.
LYME DISEASE
I was awaken with sudden jolt
Stars, twinkle, cloudy eyes
Sleep like in turbulence
Unnerving feeling
I feel like dying
I woke up
My whole body is numb
I couldn't move both my hands
I freak out
My complaint
Chest pain, heart palpitations
Sore throat, low grade fevers
Joint pain, swollen joint
Back pain, I can't explain
And left side
Facial numbness.
I call my doctor
Explain my illusion
He diagnosed me with Anxiety
Prescribe me with Xanax
To help me relax.
I call again
And this time
He sends me for a second opinion
I was told
That my problem is joint disease
I went back to see my PCP
He performs all kind of blood work
Everything came negative
Except for Lyme Disease.
He prescribe two months of antibiotic
I came back for a follow up
He said I was treated.
I went through
Battery of test.
They all came negative
Non diagnostic.
One year pass
My right ears is ringing
My vision is failing
My shaft of my legs
Bone pain I couldn't explain.
I went to see, for a second opinion
A Neurologist I must see.
Arrogant as he is
Ask me questions
Like am in court of justice.
I have Anxiety
He ask me to breath
Couple of times
He ask me to look straight
At the sharp dispense
And ask me to breath
In and out…
He ask in a badgering voice
Is this what you feel?
Is this what you feel?
In confusion
I just wanted him
To leave me alone
And I said, yes.
I feel humiliated
He didn't give me a correct diagnosis
He forgot he is a Neurologist, not a Psychiatrist
Telling me, my Anxiety is
Far worst than I think.
I drove miles, long miles
Countless bends
To see a Lyme Literate.
As I enter the office
I felt the humility
The look of understanding
Of the Secretary
I was seated in the room
My mind is roaming
My Anxiety arise
My palms were sweating.
As She enter the room
Her skin as dark
But She smile
Her teeth as white
I left with dignity
She doesn't have all the answers
But she listens to me
And my spirit rise and intact
I am ill with Chronic Lyme.
All I could say
Doctors who practice
Use your own caution
Please just hear us.
Put a little compassion
Be in our shoes.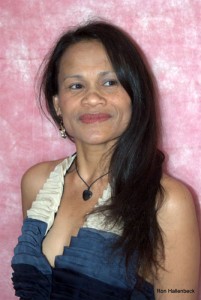 Heidy Ramos is recovering from lyme disease and hopes that her poem helps others who have been misdiagnosed and mistreated by health care professionals to know that they are not alone.
One Step at a Time
by Joseph Morris
In the morning with the journey all before us on the road,
It takes courage to begin, that is sure;
For the first step is the hardest, and we always think the load
May be greater than we've power to endure.
When the first mile lies behind us we can say, "Now that is done,
And the second and the third will soon be past."
So we trudge on through the noontime, and the setting of the sun
Finds us coming to our stopping-place at last.

When a man would climb a mountain he's appalled to see the length
Of the slope that reaches up into the sky;
But he starts, and with the climbing he will find he's gained the strength
To attain the very top, however high.
For the climbing of a mountain takes but one step at a time--
Who has courage to do that will reach the goal;
He will stand upon Life's summit and will know that joy sublime
Which is his alone who dares to prove his soul.
Hope
by Brian Quinn
When all about you is black with gloom,
And all you feel is pending doom.
When your bones are racked with grim despair -
When every breath is a gasp for air.
Keep on going, though you need to grope,
For around the bend is a ray of hope.

A ray of hope is perhaps all that's left,
As your will to live has been bereft.
You've lost it all, it's just no use!
You can end it all, you need no excuse.
But throw away that piece of rope,
And give yourself a chance of hope.

Just give yourself another day,
Brushing aside what your thoughts may say.
This is your life and you can make a new start,
By ignoring the brain - just follow the heart.
Taking baby steps in order to cope,
And minute by minute you'll build on your hope.

Build on your hope,. one day at a time,
Though the road be steep and hard to climb.
The hurts of the past - they should be dead.
The fears of the future are all in your head.
Just live in the present and refuse to mope 
Your life will sparkle for your living in hope. 
Standing Alone
by Chase
I can see the flower upon which my life grows, blooming into a rose.

See the hope and courage in the strength of the petals.
As long as I am, I will be.
The flower will never wilt or die.
As my life grows back, I shall become strong.
I shall become only dependent on one.
That one will be me.
I will rise with my petals high.
My life as a flower will bloom and prosper as I grow.
I may not be the pick of the patch, but I am just as beautiful as the rest.

I will stand as one, but not a lonely soul.
The tears will be far from my smile.
Endure
by Bobi
If I can endure for this moment,
whatever is happening to me.
No matter how heavy my heart,
or how dark the moment may be.


If I can but keep on believing,
what I know in my heart to be true.
Then darkness will fade into morning,
and with this dawn a new day, too
Then you still have hope
If you can look at the sunset and smile,
and find beauty in the colours of a small flower,
then you still have hope.
If you can find pleasure in the movement of a butterfly,
and if the smile of a child can still warm your heart,
then you still have hope.
If you can see the good in other people, and if the rain
breaking on a roof top can still lull you to sleep,
then you still have hope.
If the sight of a rainbow still makes you stop and stare in wonder,
and if the soft fur of a favoured pet still feels pleasant
under your fingertips,
then you still have hope.
If you meet new people with a trace of excitement and optimism,
and if you give people the benefit of the doubt,
then you still have hope.
If you still offer your hand in friendship to others that have touched your life, 
and if receiving an unexpected card or letter
still brings a pleasant surprise,
then you still have hope.
If the suffering of others still fills you with pain and frustration,
and if you refuse to let a friendship die, or accept that it must end,
 then you still have hope.
If you look forward to a time or place of quiet and reflection,
and if you still watch love stories or want the endings to be happy,
then you still have hope.
If you can look to the past and smile, and when faced with the bad,
when told everything is futile, you can still look up
and end the conversation with the phrase ...
'yes, but ....'
Then you still have hope.
Hope is such a marvellous thing. 
It bends, it twists, it sometimes hides, but rarely does it break. 
It sustains us when nothing else can.
It gives us reason to continue and courage to move ahead,
when we tell ourselves we'd rather give in.
Hope puts a smile on our face when the heart cannot manage. 
Hope puts our feet on the path when our eyes cannot see it.
Hope moves us to act when our souls are confused of the direction.
Hope is a wonderful thing, 
something to be cherished and nurtured 
and something that will refresh us in return.
It can be found in each of us and it can bring light
into the darkest of places.
So never lose hope.
Author Unknown
Always keep hope in your heart ~ Sue
While there's life, there's hope. ~ Cicero
The greatest wealth is health.  ~ Virgil
Never lose hope. ~ Author Unknown
 "This is the beginning of a new day.
You have been given this day to use as you will.
You can waste it or use it for good.
What you do today is important
because you are exchanging a day of your life for it.
When tomorrow comes, this day will be gone
forever; in its place is something that you have left
behind... let it be something good."
Mac Anderson,
Author ~ Finding Joy